Introducing CIPFA Learning
CIPFA Learning is our virtual learning environment, and a key part of the improvements we're making to our professional accountancy training.
Offering a single, integrated suite of interactive teaching and learning tools, CIPFA Learning provides students training for the CIPFA Professional Accountancy Qualification (CIPFA PQ) in the UK, and for the International Public Financial Management PQ (IPFM) internationally, with an improved, more flexible, learning experience.
All CIPFA PQ students will be able to access CIPFA Learning routinely, as part of their training programme. You can read all about CIPFA Learning and the improvements we're making in our guides for students and employers on this page.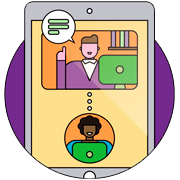 What does CIPFA Learning offer?
Choice
Students and employers can choose from one of three study modes: face-to-face, web class and self-study.
Quality
Developed and delivered by qualified CIPFA Education & Training Centre (CETC) tutors with specialist expertise in public finance – offering the same, familiar, high quality CETC tuition across all our training options.
Flexibility
With CIPFA Learning students can now access much of their learning online at a time, a place and a pace to suit them, module by module.
Key dates for the new term
Course enrolments
Course enrolments open on our website from Monday 20 January. Students who are new to CIPFA will need to register on the CIPFA website to create a MyCIPFA account, prior to enrolment. Returning students simply need to login to MyCIPFA as usual.
Access to CIPFA Learning and course materials
Course materials will be posted and delivered to all students upon receipt of course enrolments. Course materials are not sold separately without purchasing a CIPFA course. Students are required to register for a MyCIPFA account to access CIPFA Learning.
Get in touch to find out more