The role of the Chief Financial Officer (CFO)

Information on the role of the Chief Financial Officer (CFO) in the public sector. What a CFO is, what the role involves, why it's important, and what training, qualifications and experience are required to become a CFO.
What is a Chief Financial Officer (CFO)?
A Chief Financial Officer, or CFO plays a critical role in the ability of public service organisations to meet the needs of the communities they serve.
The CFO occupies a critical position in any organisation, holding the financial reins of the business and ensuring that resources are used wisely to secure positive results.
What does a CFO do?
A CFO ensures timely, accurate and impartial financial advice and information is provided to assist in decision making to ensure the authority meets its policy and service objectives, provides effective stewardship of public money, and value for money in its use.
Is a CFO's role different in the public sector?
A CFO in the public sector is increasingly playing a leadership role, not just within the finance function, but across the organisation, across their sector and across the public services as a whole. This means that CFOs need to develop new skills, establish new relationships and work in new ways.
Public service organisations play an essential role in communities around the world. They deliver vital services to billions of people every single day. These services range from the provision of water and sanitation to national defence and the exploration of deep space. They encompass virtually every aspect of our lives, from education and healthcare to economic regulation and consumer protection.
Public service organisations can only provide these services if they have the money to pay for them. And so it is essential that public service organisations manage their financial resources well. The chief financial officer (CFO) plays a vital role in making sure that this happens.
Publication: The role of the chief financial officer in public service organisations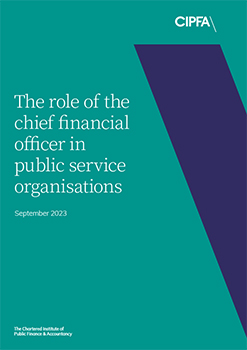 The aim of this publication is to provide a definitive statement on the role of the CFO in public service organisations around the world.
It explores the nature of the finance function and of the work of the CFO in the public services. It also considers the competencies CFOs need if they are to fulfil their role effectively, the relationships they need to develop and the organisational culture they need to create.
It highlights key themes for CFOs and their organisations, such as the opportunities and challenges that they face, the nuances of operating within a political environment and the importance of accountability, stewardship and sound ethical values.
The publication also seeks to celebrate the role of the CFO in public service organisations and to promote it as an attractive and rewarding career choice for high-calibre finance professionals.
Read The role of the CFO in public service organisations
More about the role of the CFO
Education
Policing
Health and Local Government