Spotlight on Jordan White, Counter Fraud Officer at Medway Council
& Gravesham Borough Council (Shared Service)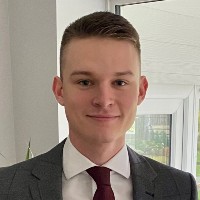 We spoke to Jordan White (right) and his line manager Nikki Ashby from Medway Council & Gravesham Borough Council (Shared Service) about their experience with the CIPFA Counter Fraud Investigator Apprenticeship.
Jordan, 24, joined Medway Council in Kent in September 2020 as an Audit and Counter Fraud Intelligence Analyst, having graduated from the University of Kent that year with a BSc in Economics. The following July he was promoted to a counter fraud officer role as an investigator, gathering evidence and progressing cases for potential prosecution.

His role involves creating investigation plans, conducting enquiries with other departments and liaising with other agencies to gather evidence, visiting residents and taking witness statements, and interviewing people under caution. He began his Level 4 Counter Fraud Investigator Apprenticeship (CFIA) in October 2021.

Leading the Medway Council Counter Fraud Team is Counter Fraud Manager Nikki Ashby, who explains: "We are part of an internal audit and counter fraud shared service working across a district and a unitary authority — Medway Council and Gravesham Borough Council — and we investigate everything from tenancy and social care to internal fraud."
Developing the team
The cross-authority internal audit and counter fraud shared service was established in 2015 with the merger of two audit teams and two counter fraud teams from the local authorities. Though this created a highly knowledgeable and experienced team, the skillsets for effective audit and counter fraud functions differed in significant ways. This led to the team being split into two services in 2020, creating the current new counter fraud team.
With an experienced counter fraud officer leaving shortly after Jordan's promotion, management took the opportunity to develop the new team's capabilities. "We decided to invest in our new team though the CIPFA counter fraud qualification," Nikki explains. "After much research and personal feedback from colleagues within our organisation and in other councils, CIPFA came out as the most suitable partner for us, offering the most in terms of resources, help, guidance and experience as a whole."
Nikki believed that the apprenticeship route would be ideal for expanding Jordan's knowledge and capabilities – and it would challenge him, too. "Jordan joined the service with no previous experience in counter fraud, but from day one he has displayed tenacity, drive, confidence, and the ability to learn, develop and progress," she says.
"I found joining the counter fraud team pushed me out of my comfort zone. I was learning new things every day," Jordan explains. "I really enjoyed it and wanted to pursue it further, so getting the opportunity to join the apprenticeship was fantastic for me."
In less than 12 months with the Counter Fraud team, Jordan has been involved in the identification of more than £450,000 in cashable savings, as well as the recovery of two council properties (an estimated saving of £93,000 each), totalling nearly £638,000 across the two councils. This led to him winning the Best Apprentice/Newcomer title at the Public Sector Counter Fraud Awards 2022.
Apprenticeship course
The CFIA course has continued to push Jordan out of his comfort zone, but six months in, he is clearly enjoying the challenge. "It's been great," he says. "We've started with the knowledge aspects and theory, learning about legislation that helps us understand the law that governs the work of an investigator, the fraud landscape and so on."
Skills-based training will follow in the coming months and Jordan says he has already been picking up some investigative skills and techniques from the examples discussed in the classes. "We've reviewed policies specific to our authority, learning how we could potentially improve them," he says. "The 20% of course time allocated to 'off-the-job' training has allowed me to spend time researching different fraud types and fraud cases in the news."
"I can already see that it's going to cover everything you need to be a local authority investigator, but there are also more elements covering areas such as forensic investigations, data analysis, cybercrime and police-related areas that establish a broad and deep level of skills."
Completion of the two-year course also enters Jordan into the Government Counter Fraud Profession (GCFP), further aiding his career progression.
A learning experience
Jordan's learning will be supported by structured, on-the-job training across the two years the apprenticeship takes to complete. In addition to live web classes, all apprentices have access to CIPFA's virtual learning environment, providing online resources to support their journey. Apprentices also have access to individual learning records, where they can monitor learning outcomes and track development through to their end-point assessment.
He enjoys the tutor sessions, learning from experienced investigators "who always have interesting stories about their time in the field," and the opportunity to work alongside apprentices of a similar age, and at a similar stage of their counter fraud careers.
Nikki agrees that the apprenticeship has helped improve Jordan's understanding of his daily duties in the role, as well as giving him the confidence to explore other areas. "Jordan's training is very much practical, in that he can apply the theoretical elements to his day-to-day work," she says, "which improves the way the team works and the results it achieves."
The support for apprentices is another element that has impressed Nikki, who is experiencing an apprenticeship process for the first time. "Jordan's apprenticeship manager, Heidi Loren de Sousa, his mentors, and everyone at CIPFA are always on hand to answer questions. The schedule of learning is incredibly useful in helping students focus on their learning and highlighting the mass of information they will learn during the course. Even the professional discussions test my knowledge, which I think is great, as the entire team can learn new things or have discussions during learning to act as a refresher."
What's next?
Jordan acknowledges that he's just starting out in his career, and "as long as I'm learning new things and feel like I'm progressing, then I'm happy. I love what I do and the people I work with, so it is difficult to say what my aspirations are. But if I had to, then I would say I would just like to work on the most interesting cases possible – which could be with the Serious Fraud Office or the National Crime Agency. I would also like to manage my own team one day."
Nikki has already signed up another new member of her counter fraud team for the CFIA. "I would recommend anyone considering recruiting a new team member to put them on the CFIA course. The CIPFA training does not specifically address one area of fraud in isolation, like previous training used to do. Recruiting someone who undertakes the CIPFA programme is ensuring future well-trained, well-rounded investigators who could work in many organisations. The training offers more than I ever imagined."
Jordan also recommends the CIPFA apprenticeship to any would-be counter fraud professionals. "It gives you confidence that you know what you are talking about," he says. "You also know that what you are doing in the role is considered best practice, and that helps you to progress cases faster and more accurately. It also gives you the opportunity and time to work on yourself and improve your knowledge and skills as an investigator – and you get support whenever you need."
It will be hard work, Jordan warns. However, he concludes: "It is an enjoyable experience. Embrace the challenge – the more you put in, the more you get out."
Contact us
CIPFA has two Counter Fraud Investigator Apprenticeship intakes a year, one starting in the spring and one in the autumn. If you have any queries, including how to go about recruiting an apprentice, contact the apprenticeship team: apprenticeships@cipfa.org