Spotlight on Jack Mills, Apprentice Counter Fraud Investigator for Cornwall Council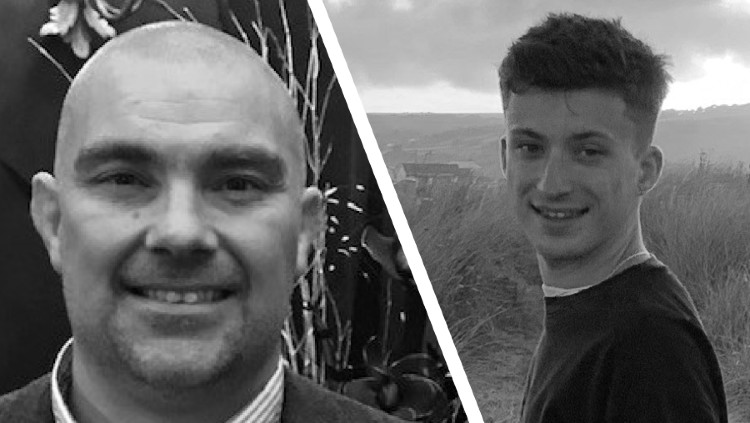 We spoke to Jack Mills (right) and his line manager, Jason Pengilly (left) from Cornwall Council, about how they're finding the CIPFA Counter Fraud Investigator Apprenticeship.
Jack joined Cornwall Council as an Apprentice Counter Fraud Investigator in April 2021, after graduating with a first class degree in Criminology from City, University of London. Based in Truro, he works within the authority's in-house counter fraud team for the assurance service, which covers all aspects of the council's activities including council-wide advice and guidance, anti-money laundering, council tax fraud, digital investigations and monitoring, housing and tenancy fraud, internal fraud investigation, and a variety of other areas where fraud might be encountered.
The team is led by Jason Pengilly, Fraud and Insurance Manager at the council and Jack's line manager. "Our team do a lot of wide and varied work," he explains. "The council has committed to ensure that opportunities for fraud and corruption are reduced to the lowest possible level. The counter fraud team engage with both internal and external stakeholders to achieve this by creating and maintaining a counter fraud culture, raising awareness of the impact of fraud on the council and the individual, and preventing, detecting, and deterring fraud. We formally investigate fraud and apply sanctions against people who commit it, as well seek redress for frauds, overpayments and losses."
New recruit
Early in 2021, the team decided to recruit an apprentice as they felt that it would be a great way to develop an individual in the counter fraud world within the public sector environment. "We thought it provided an opportunity for anyone with no prior knowledge, background or experience in counter fraud to obtain a position working in this area of local government," Jason says. "Cornwall Council is committed to an apprenticeship-first approach to recruitment and development."
Jack is the council's first counter fraud apprentice to be recruited through CIPFA's new programme. On completion of the two-year scheme, apprentices receive CIPFA's Accredited Counter Fraud Specialist (ACFS) award, the benchmark professional award for counter fraud practitioners in the UK. "I felt the apprenticeship was a great way to kickstart my career," Jack says, "and the counter fraud field provided for a natural link from my degree in criminology into the job market."
"The counter fraud profession helps to satisfy my naturally inquisitive mind, as I'm always looking for answers and explanations. It also feels rewarding to be part of a field which operates with the aim of protecting the public purse being central to our role."
Having grown up in Cornwall, Jack moved back from London towards the end of his university course as the pandemic took hold. "It was fortunate that I was about to finish my degree around the same time as this role came up. And, importantly, the role gave me an opportunity to serve the community I enjoyed growing up in."
Course works
Although still early in his apprenticeship, Jack is clearly enjoying the course so far. "It's great to have your own preconceptions challenged whilst being equipped with the skills and knowledge necessary to perform your role well," he says.
He highlights how the structure of the course is enabling him to form an understanding of the legislation that governs and underpins the everyday working of his role. "The content covered throughout the apprenticeship links directly to my daily responsibilities, helping me to better understand my workload as I'm progressing, to ensure I can perform my role to the highest standard," he says. "It also helps to instil confidence in all areas of my work, from referring to legislation while conducting an investigation to upholding the obligations of my authority's counter fraud function – and I'm gaining a professional qualification at the same time."
Jack is particularly looking forward to his forthcoming module on cyber-crime, digital evidence and forensics – areas that he would like to explore in his future career. "The content we've covered so far, although specific to my current role as counter fraud investigator, provides for skills that are transferrable to a wide range of fields. I hope to continue developing myself within my current role, to define an established investigatory career in the authority, with a view to be able to transfer the skills I have gained in local government to a career in intelligence and security, or to a similar field within central government."
Overcoming challenges
COVID-19 did, understandably, create a number of challenges for the team, and Jack was recruited 'virtually' to his role. "That was an interesting challenge in itself," Jason recalls. "Since Jack commenced his role with the council, we have all been home working and so having face to face meetings and conversations have been both limited and challenging. However, the team meets 'virtually' every day for a catch up and to discuss the day ahead."
Nonetheless, managing a counter fraud apprentice has been an unequivocally positive experience. "Jack has been tremendous since he started, he's extremely engaging and has fitted in with the team very well," Jason continues. "He's always seeking to acquire new skills and expand his knowledge across the whole of the counter fraud team's activities."
"He brings a really good educational background to the team, as well as an abundance of enthusiasm and a willingness to learn and develop. Jack has excelled during the early part of his apprenticeship achieving high pass marks on both his coursework and exams."
Support
As part of the first cohort of CIPFA's counter fraud apprenticeship, Jack has been struck by the depth of support he has experienced from both students and tutors, and is keen to recommend the course to others with an interest in this varied and multi-faceted area. "It's great to be supported by a cohort who are equally as eager to learn and develop," he says. "The support and wealth of knowledge shared by each trainer is unmatched, meaning you can embrace a specialist role whilst being well supported throughout. The addition of the ACFS award provides the bonus of achieving a highly regarded status on completion. I'd definitely recommend it to anyone."
"Being a new apprenticeship, and us the first cohort, I hope the achievement of completing it will set me apart from others in the future job market, as an individual who is recognised as being specialised in counter fraud."
Jason is a strong advocate of the apprenticeship pathway. "It is a great opportunity to develop someone into a counter fraud role, and it allows the individual to bring fresh ideas and perspectives to already established teams," he says. "It also provides the successful candidate with a guided learning path and ultimately an ACFS qualification. It's a fantastic way to grow and develop the individual."
Contact us
CIPFA has two Counter Fraud Investigator Apprenticeship intakes a year, one starting in the spring and one in the autumn. If you have any queries, including how to go about recruiting an apprentice, contact the apprenticeship team: apprenticeships@cipfa.org