Advisory note one: Understanding the challenge to local authority governance
This advisory note formalises key messages surrounding recent governance failures that have been identified in statutory and non-statutory reviews and public interest reports. It reinforces the good practice principles local government bodies in the UK should adopt, and signposts relevant documentation. The panel expects all organisations to be aware of and learn lessons from recent examples of failure, and this advisory note highlights this message.
It applies to all local government bodies in the UK.
---
Local authorities are accountable to their communities for the money they spend. They are required under law to ensure they provide value for money, and to achieve this they have a governance framework that supports a culture of transparent decision making.
The CIPFA/Solace Delivering Good Governance in Local Government Framework defines the principles that should underpin the governance of each local government organisation. It provides a structure to help individual authorities with their approach to governance, which it defines as "the arrangements put in place to ensure that the intended outcomes for stakeholders are defined and achieved."
While this framework has led to an increased awareness and strengthening of governance across the sector, there are still significant and high-profile failures that need to be addressed. In their 2020 report Addressing cultural and governance failings in local authorities: lessons from recent interventions, the Department for Levelling Up, Housing and Communities (DLUHC) stated that based on their experience of supporting and sometimes intervening in local authorities experiencing difficulties, "it has become clear that culture and governance at a local authority is key to its success or failure."
While governance does not look identical across all organisations, it is critical that proper arrangements are in place to ensure that an organisation can achieve its strategically agreed objectives and remain financially sustainable. These two elements are interdependent, and an organisation facing financial stress is at far greater risk when its governance is poor.
The reasons why governance can be weak are complex and include cultural failings, poor leadership and ineffective policies and procedures. The financial pressures faced by local authorities have also been a factor. In addition, there has been an increase in commercial activity since 2011, accompanied by greater complexity in local delivery and funding arrangements and, according to a National Audit Office (NAO) report, a 34.2% decrease in real terms on spending on corporate and democratic services, which in some cases has weakened governance arrangements.
Public interest reports and other commentary
The last eighteen months have seen the publication of several public interest reports (PIRs), including Nottingham City Council, two at the London Borough of Croydon, Northampton Borough Council and Pembrokeshire County Council.
Reports in the public interest are issued under the Local Audit and Accountability Act 2014. Schedule 7 places a duty on a local auditor to consider whether, in the public interest, they should make a report on any matter coming to their attention during the audit and relating to the authority (or connected entity to the authority), so that the recommendation can be considered by the relevant authority and brought to the attention of the public.
The content of these reports has been varied, but there is a common theme running through each one of significant weaknesses in governance.
These weaknesses have also been found in value for money governance reviews at Sandwell Borough Council, inspection reports at Liverpool City Council, assurance reviews and DLUHC reports. Key findings include:
an absence of the right culture and understanding of the Nolan Principles
a need for greater transparency in decision making
a need for more effective risk management
weakness in challenge via audit committees or the scrutiny function
lack of capacity and expertise for operating in specific markets
lack of time for considered challenge, with governance principles disregarded
the need for more effective capability in commercial skills
lack of effective leadership
Learning lessons
Going forward, it's important that all local authorities reflect upon these findings and identify learning points to mitigate the risk of similar issues arising.
We identify two areas recommended for additional consideration for the improvement of governance, but this does not exclude or diminish the importance of other areas:
1. The importance of the annual governance statement.
2. The quality of internal challenge.
The importance of the annual governance statement
The annual governance statement (AGS) is a key document for any organisation, and when completed correctly and with rigour, it can be used to identify failings of governance and provide an opportunity internally to improve and thereby reduce risk. It should normally be approved at the same time or no later than the statement of accounts and should be regarded as a vital tool by those charged with governance and the leadership team.
In the past, CIPFA has seen examples where annual governance statements have not identified any weaknesses, yet a more detailed examination has highlighted inherent flaws. The AGS is a mandatory requirement for local government bodies set out in statutory regulations. In essence, it is an accountability statement from each local government body to stakeholders on how well it has delivered on governance over the course of the previous year, using the seven principles of the framework to guide the evaluation.
In addition to the organisation acknowledging its responsibility for ensuring governance is effective, the AGS should:
focus on outcomes and value for money
evaluate against the local code and principles
be written openly and be easily digestible
include an opinion on whether arrangements are fit for purpose
include identification of significant governance issues and an action plan to address them
explain action taken in the year to address the significant governance issues identified in the previous year's statement
be signed by the chief executive and leading member in a council (the police and crime commissioner (PCC) and chief constable should sign theirs)
However, the most important way to make the statement meaningful is to ensure that it is an open and honest reflection of the body's governance and its current challenges.
Two key aspects of the AGS are the identification of areas for improvement and the associated action plan. Where these are well covered, the AGS becomes a meaningful tool for improving governance. The AGS should also provide a clear evaluation against the principles of good governance and an opinion on whether arrangements are fit for purpose.
CIPFA recommends that authorities set out how their local arrangements support the principles of good governance in a local code. While some authorities have done this, many have not or publish local codes that are out of date or poor quality. A current and robust local code provides clarity over an authority's governance and supports the annual review of effectiveness.
The quality of challenge from within the organisation
For good governance to function well, an organisation must encourage and facilitate a high level of robust internal challenge. This will contribute to the financial sustainability of the organisation and evidence the right cultural approach. Recent reviews and PIRs have identified the two main areas of weakness:
1. Audit committee, which needs to be strengthened.
2. Internal challenge, in which scrutiny, internal audit and officer views need to be more effective.
Strengthening the audit committee
The core functions of the audit committee are to provide oversight on a range of core governance and accountability arrangements, to respond to the recommendations of assurance providers such as external audit, and to help ensure robust arrangements are maintained. The diagram below shows how audit committees add value across the organisation.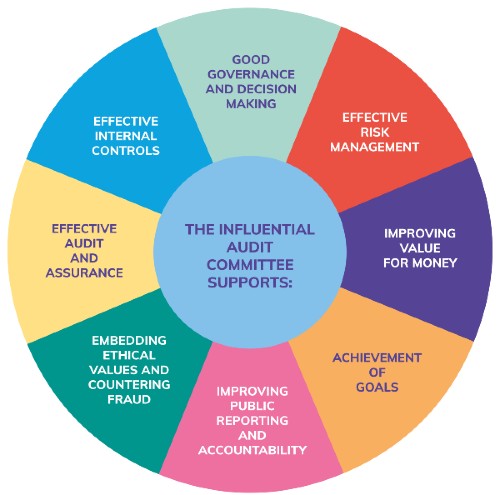 Source: Audit Committees: Practical Guidance for Local Authorities and Police(CIPFA, 2018)
Good governance requires independent, effective assurance, and this is best delivered by a dedicated audit committee independent of the executive committee and scrutiny function. The audit committee must also have the capacity and capability to carry out its functions, and each committee should be clear about its role and responsibility.
Where an audit committee is not already mandatory, CIPFA recommends that all local government bodies should have one. The committee should follow CIPFA's Position Statement on Audit Committees in Local Authorities and Police. We will shortly replace the 2018 edition of this position statement with a new edition, accompanied by updated guidance.
The audit committee must clearly understand the principles of good governance, and their line of questioning must support those principles.
Good governance means managing risks and performance through robust internal control and strong public financial management. The audit committee should ask questions such as the following:
Does the audit committee have the assurances it needs to meet its responsibilities and ensure the organisation meets its statutory responsibility?
Does effective assurance exist across all areas?
How effectively is risk management used in the planning and decision-making process?
Are audit and assurance budgets adequate?
Are there any concerns with management controls?
The audit committee also plays an important role in supporting external audit. The Redmond Review highlighted the need for improvement in how authorities respond to matters raised by external auditors. This will also feature in CIPFA's forthcoming guidance.
Internal challenge
The three statutory roles of the section 151 officer, monitoring officer and head of paid service are critical in ensuring that the organisation delivers good governance and lawful decision making. Where the organisation falls short of this expectation, these officers have a statutory duty to raise their concerns in circumstances defined by legislation: Section 114 of the Local Government Finance Act 1988, and Sections 4 and 5 of the Local Government and Housing Act 1989.
It is important to the delivery of good governance that all three statutory officers can offer a challenge and have their professional view recognised within the organisation. In 2019, work carried out by NAO suggested that 6% of section 151 officers could not affirm their advice was given serious consideration by the senior leadership team. Both the section 151 officer and the monitoring officer should be of a level of seniority that allows their professional opinions to be considered and recognised.
It is necessary that the culture of the organisation supports this approach and that the tone from the top is one that embraces discussion. Organisations should strive to create a culture where challenge is seen in a positive light and acknowledge that the absence of challenge, where staff cannot speak out as they would have wished, indicates a governance failure.
Internal challenge should also be evident in the exercise of scrutiny. The four key roles for overview and scrutiny, as established by a House of Commons report, are:
holding executive, individual cabinet members and chief officers to account and ensuring corporate priorities are met
policy development and review
external scrutiny
performance management and best value
Internal audit is another mechanism for internal challenge, and CIPFA considers it essential that authorities ensure their internal audit provision is effective to meet the requirements of the regulations. All local government bodies should operate in accordance with the Public Sector Internal Audit Standards and the Local Government Application Note and be able to demonstrate this with an external assessment of conformance completed within the last five years.
Conclusion
The lessons from recent governance failures show that authorities cannot take the adequacy of their governance arrangements for granted. Austerity, the COVID-19 pandemic and innovations in operating models all mean that governance arrangements are under pressure. The annual governance statement provides the opportunity for an honest reflection on whether those arrangements are fit for purpose, and all authorities should take that public assurance seriously.
We recommend that all those charged with governance, and all those leading and supporting governance within an authority, should consider their local code and AGS, their audit committee and arrangements for internal challenge to ensure they are fit for purpose for managing current and future challenges.
Further reading
Centre for Governance and Scrutiny resources