Vicky Rock, Managing Director Finance, Performance and Portfolio for the House of Commons
Vicky has been Managing Director Finance, Performance and Portfolio for the House of Commons since June 2022. As Finance Director, Vicky provides leadership on financial management including ensuring regularity, propriety, value for money and feasibility for use of public resources. Prior to this, she held a number of roles at HM Treasury, most recently as Director of Public Spending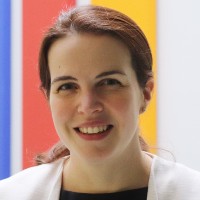 Vicky Rock's CIPFA journey
Vicky served as Deputy Head of the Government Finance Function, which focuses on investing in people, sharing best practice and developing frameworks, guidance and tools to support more than 10,000 people working in finance across government.
She began her career working mainly on public sector audit at KPMG, where she trained and gained her CIPFA qualification in 2009. She moved to the Treasury in 2011, initially working in an accounting role before moving into public spending, and then from the finance team into the public spending group, working on setting financial reporting rules for the government and providing advice on financial management.
In 2014, she began a short secondment to help set up the British Business Bank before returning to the Treasury in July 2015 as a deputy director, overseeing all aspects of government financial reporting and the whole of government accounts. After four years in this position, she was appointed as Director, Public Spending Group, which involved leading the teams responsible for delivering high-quality government financial reporting and data in order to improve decision making and accountability across government.
What led you to become a CIPFA member?
When I joined the graduate trainee scheme at KPMG, they offered the choice of CIPFA membership and training for a CIPFA qualification. I had chosen a private sector role because it offered a really good training option, but I had a clear view from early on that I wanted a finance career in the public sector, so CIPFA was the best option for me.
When did you first become attracted to a career in the public sector, particularly public finance?
It goes back a long time for me. Both my parents worked for the public sector, so that was always the area I thought was most interesting. I chose my career path even before I went to university (I studied Mathematics at the University of Warwick), so public sector finance was quite an early decision, and it's gone surprisingly well to plan!
Why did you choose the public sector over the private sector?
It's just more interesting – it's always more fulfilling, varied and motivating. The challenges are harder, but when you're working hard you know you're doing it for social good and that's what makes it worthwhile. I really love my job. I've been on maternity leave twice, and each time coming back has been a reminder of how much I love what I do.
What have been the highlights or biggest successes of your career to date? Are there any stand-out, pivotal moments?
I'm sure the challenges of the last few years will have created standout, pivotal moments for most people working in public sector finance! The pandemic response is one of mine. In March 2020, as part of my previous role, we started to realise the potential extent of the pandemic and the scale of the response that would be needed to support individuals, businesses and public services. It's not in the limelight, but we had to make sure that expenditure was agreed by parliament, otherwise we couldn't legally give departments cash to deliver on the announcements being made. That meant drawing up emergency legislation, so that we had access to a huge war chest in order to be able to fund these commitments.
I had to design the legislation on a Friday, get the prime minister's agreement over the weekend, and speak to Leader of the House of Commons, Jacob Rees-Mogg, on the Monday to get his agreement to keep parliament sitting until the emergency legislation was passed. The legislation passed the following day immediately before parliament dissolved. We used that legislation to fund over £200bn of COVID support. That was a huge success. To do it over one weekend and get everyone to agree was quite something.
There have been other highlights too, such as selling Northern Rock and working with the Bank of England on quantitative easing, and I'm proud of helping to set up the British Business Bank.
What has been the most rewarding aspect of working in the public sector?
It's about the impact that you have. At the Treasury, occasionally I'd deliver a policy – as the COVID-19 response demonstrated, for example. It happened quickly and you can see the effects straight away. However, most often, I'm enabling others to do well and to deliver public services, and that's what I find rewarding. You work hard on something, and even if it has only made a small difference or change, it can have a huge multiplier effect because it's something that you've improved across government, and that can translate into how departments and other government bodies are run. That's really satisfying.
How has being a CIPFA member supported you in your career?
Being a CIPFA member has been an anchor for me, allowing me to have a career path focused on understanding and managing public sector finances. It gave me a strong technical foundation that I used to build my career. Working and training at KPMG, the CIPFA qualification gave me the technical knowledge I needed to work across a whole range of public sector clients. I was then able to transfer that knowledge of financial reporting and financial management to the Treasury, where my first role was accounting for and managing an incredibly large balance sheet. I have used every aspect of my CIPFA training, and as my role broadens, I increasingly draw on the wide range of CIPFA policy and guidance.
What's the best piece of advice you've been given, and by whom?
It was by Julian Kelly, who is now chief financial officer at NHS England. He was previously finance director at the Treasury and had several roles there. When I first joined and was working in the finance team, the advice he gave me was that if you're in the room, you're entitled to speak, and you're entitled to have an opinion. It was about not limiting yourself; thinking that you can only comment if the discussion is within your narrow subject matter area, or that other people know more than you do. If you're there in the room, you're entitled to be there, and you have the right to own that, to welcome that.
What advice would you give to people who are beginning their career in public finance?
There are so many opportunities out there and so much to choose from, so a lot of finding your career path is about understanding your own motivation – understanding what it is that you feel passionate about and what interests you. That way, you'll find something that is really satisfying for you. Don't think about what you should be doing – think about what personally motivates you; that's always the best way to choose a role or to think about what to commit to. Use that as a guide.
What would you say to somebody thinking of becoming a CIPFA member?
It's an excellent idea! I would say you should think about what is that you want from your career and where you want to spend your time, and if your answer is the public sector, CIPFA is a really good option. It will set you up with knowledge of public sector finances and give you the technical grounding that you need to be an expert finance professional.
Read more about our members
Meet our members